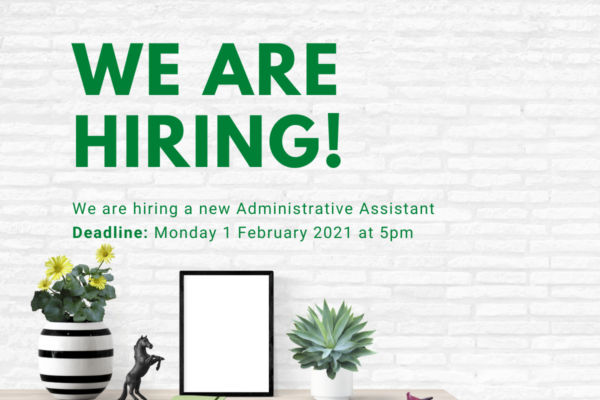 15 January, 2021
We are hiring an Administrative Assistant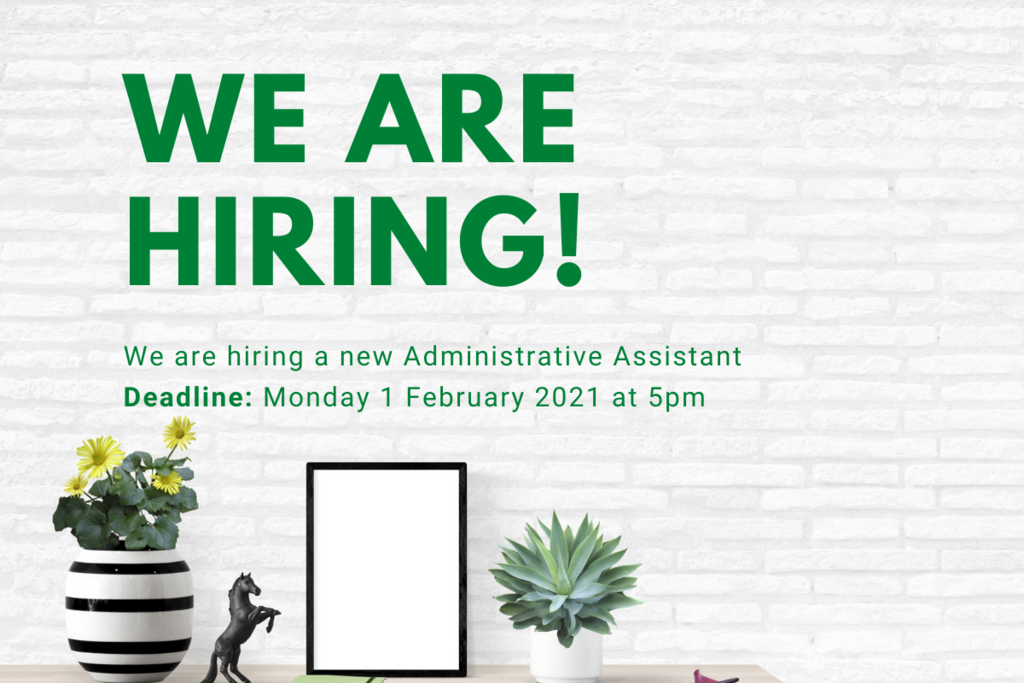 ABOUT THE ROLE
JOB TITLE: Administrative Assistant
REPORTING TO: Deputy Director
CONTRACT: Part-time, 3 days per week /21 hours per week / 0.6 FTE.
Contract for one year, subject to renewal, with six month probation period
Hours will be regular based on a three-day week, but may comprise of half-days/evenings or full days and exceptionally, Saturdays.
SALARY: €23,660 per annum (€14,196 pro-rata 3 days per week).

LOCATION:  Dublin (ordinarily) Online during Covid-19 restrictions. 
Please note the post-holder will need to be Dublin-based to carry out the duties of this position.
PURPOSE OF ROLE: 
This is a new entry level role for someone with a literature or an arts background wishing to join a dedicated team to assist in the delivery of resources and supports to Irish writers.  The role includes a mix of front-facing customer service engagement as well desktop administrative and marketing under the guidance of team members. It is anticipated that as the person becomes more familiar with the organisation, the role will become more specialised to support appropriate team members in one or more of areas:  projects, grant-writing/support, communications and/or events.
TERMS AND CONDITIONS:
The normal place of work will be at the Irish Writers Centre, 19 Parnell Square, Dublin 1. However, due to Covid-19, the post holder may be working remotely for a period of time. Subject to government travel restrictions, you will make yourself available for face-to-face meetings as required by the Company. Wherever possible, you will work in Parnell Square to act as a positive presence to the team, within the range of opening hours which are generally from 9am to 9pm on Mon to Thurs and 9am to 5.00 pm on Fri and Sat. 
The role is part-time on designated days of the working week, however, due to the nature of the role the post holder will be required to work some evenings and weekends in order to fulfil the role successfully. Time off in lieu will be given for hours worked outside of the normal schedule. The normal hours of work will be 21 hours per week. The working day will comprise of an 8 hour shift with one hour for lunch, or equivalent. The salary is paid in arrears by bank transfer on a monthly basis. The Board of the IWC has authorised a Remuneration Sub-Committee to review staff salaries on an annual basis.
As a publicly-funded organisation, we commit to take positive policy measures to promote equality of opportunity, access and outcomes for all those living in Ireland regardless of their gender, sexual orientation, civil or family status, religion, age, disability, race or membership of the Traveller community, as well as socio-economic background. We are committed to promoting equality, diversity and inclusion through all our employment policies and practices. 
The Irish Writers Centre is an equal opportunities employer and is committed to improving access to our services. If you have any specific access needs or requirements please contact us directly to discuss how we can support your application.
KEY RESPONSIBILITIES:
The successful candidate will:
learn about the IWC's remit, role and delivery of supports and many aspects of arts administration.

support team members in the delivery of our programmes and courses.

represent the IWC when working with writers and the general public.
Training will be given in the following: administration, communicating with writers, members and the general public, processing course payments, facilitating and some website management/social media. On completion, the administrative assistant will have attained skills in arts administration, customer service, and in our I.T. systems.
Once trained, the successful candidate will:
work closely and collaboratively with the team to deliver all programmes effectively in order to achieve the IWC's strategic goals

work effectively with colleagues, maximising the potential of our human resources to meet our strategic goals, including office cover and liaising with interns and volunteers as required.

contribute to the maintenance of systems of operation for the smooth and efficient running of the Centre as required.

attend all relevant staff meetings and supervisions, including weekly team meetings and quarterly Planning Days.

act as a point of contact and representative for members, writers, visitors and the public in various capacities:  online, face to face, email or telephone.

assist other members of staff with various administrative, promotional and events-based tasks in the Centre, or wherever they may take place.

be a trusted presence on-site and acting as a key holder.
WHO WE ARE LOOKING FOR:
The ideal candidate will:
have a minimum of a year of administrative/office based experience in the arts or another field.

have strong interpersonal skills, a professional attitude and a genuine liking for dealing with the public. 

have experience of working in literature (or the arts) or a literature qualification (or similar).

have a desire to support writers in the making and development of their writing and professional development skills.

have an aptitude for or an interest in developing social media skills.

be a self-starter, and have a proven ability to work on own initiative and ability.

demonstrate the ability to prioritise and deliver on concurrent tasks.

be personable, reliable and committed to the mission and values of the IWC.

be able to work well as a member of a close-knit team, and answer to a line manager.

have highly developed interpersonal and communication skills with the ability to be diplomatic, discreet and confident in dealing with a range of stakeholders.
SKILLS: 
You will have the ability to manage a demanding workload across multiple projects in a professional and confident manner.

You will have strong interpersonal skills together with the ability to get on with people of all ages and a commitment to a very high standard of work. The ability to work within a team is essential.

The ability to think on your feet and make sound decisions.

Ability to work autonomously.

Ability to work collaboratively with a small team in order to meet organisational objectives.

You will have good IT skills; knowledge of office-based IT systems is a distinct advantage.

A high level of written English and a willingness to learn new computer programmes. 

Written and spoken competence in Irish is a distinct advantage.

Above all, we are looking for a candidate with a clear understanding and appetite for the creative challenges and fulfilment that working in the arts offers.
Short-listing criteria:
Minimum 1 year administration experience at an equivalent level of responsibility.

Demonstrable ability to be self-motivated with a strong interest in working in the arts. 

Demonstrable ability in working successfully within a team context.

Demonstrable ability to prioritise and deliver on concurrent tasks. 

Demonstrable aptitude for problem solving and an eye for accuracy and detail.

Excellent computer skills with a command on MS Office, Google Drive, Zoom and the ability to pick up new skills where needed. 

A Literature/Arts Degree or equivalent qualification or experience.
Additional qualities which will positively support your application:
Customer service/client facing experience is desirable.

A good command of written and spoken Irish is a distinct advantage.
At interview stage, in addition to these competencies, the panel will also assess:
The ability to inspire and motivate

Verbal and non-verbal communication skills

Evidence of clear, logical thinking

Congruence with the IWC's values
THE APPLICATION PROCESS
The application will comprise of:
A cover letter which concisely outlines the key skills and qualities which you will bring to the role, and also relating how your experience has prepared you for the key challenges of this role. 

A Curriculum Vitae, including the names and contact details of two referees (email and mobile number. Referees will only be contacted in the case of final shortlisted candidates.)
Applications, by email only, should be submitted to the attention of Hilary Copeland, Deputy Director at management@writerscentre.ie with Application for Administrative Assistant in the subject line. It is essential that both of the above stated documents are collated into a single word or pdf attachment to be eligible.
Deadline for applications is on Monday February 1st, 2021 at 5pm. (Late applications not accepted.)
Selection
Interview candidates will be selected on the basis of their suitability for the role, in line with the stated shortlisting criteria.