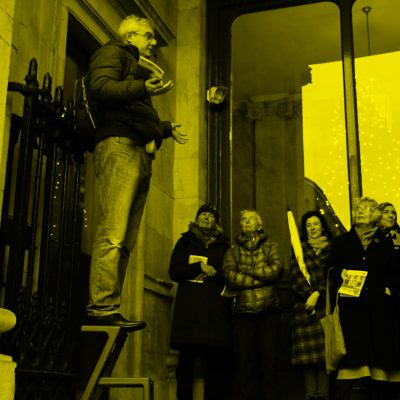 Poetry Day Ireland: A Poet's Rising Promenade
Date: Thursday 2 May 2019
Time: 1.00pm
Tour starting from James Connolly Statue, Beresford Place, opp. Liberty Hall
Join writer and historian Conor Kostick for a tour of the significant locations of the 1916 Rising as featured on the Irish Writers Centre's A Poet's Rising app. Conor will give a brief introduction to the background history of the location/icon and also the poet and poem.
The tour will begin at the James Connolly Statue at Beresford Place and then bring participants first to the Abbey Theatre to hear Jessica Traynor's 'A Demonstration', then to the GPO for Paul Muldoon's 'Patrick Pearse: A Manifesto'. Following this we move to O'Rahilly Parade for Nuala Ní Dhomhnaill's 'Íota and Bháis'. We then head around the corner to Moore Lane for Theo Dorgan's 'We Carried it to Here as Best We Could,' followed by Thomas McCarthy's 'Garden of Remembrance' at the Garden of Remembrance on Parnell Square.
The tour will last approxiamtely one hour.
Following the final poem, all are invited to the Irish Writers Centre for tea and coffee where the A Poet's Rising film will be shown in full.
The poems will be broadcast over a small PA, but the audience are encouraged to bring either a smartphone or tablet and a pair of headphones in order to watch the videos at each location.
Part of Poetry Day Ireland.