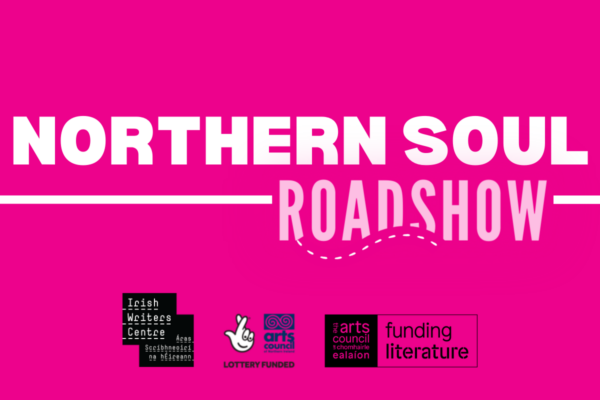 15 February, 2023
Northern Soul Roadshow Awardees 2023
We're delighted to announce the awardees of our new Northern Soul Roadshow (NSR), a programme which spotlights diverse and native writers from the North of Ireland. Delivered across a series of creative writing events and workshops curated and facilitated by Fiona O'Rourke, the programme exclusively features writers born in the North of Ireland and those who have moved there from further afield.
Over the course of the 6 weeks, the awardees will benefit from a rich programme of activities, including the opportunity to hone their craft in a supportive writing community of guest readings, lively Q&A discussions, and facilitated writing exercises. In keeping with Goal 2 of our new 2022–2026 Strategy, the roadshow will enhance opportunities for people across all communities to explore and participate in creative writing.
NSR is curated by writer-facilitator Fiona O'Rourke, in association with the Irish Writers Centre, and is funded by the Arts Council of Northern Ireland's National Lottery Project funding.
The awardees of the Northern Soul Roadshow are as follows:
David Atkinson, Lisa Anderson, Sara Boyce, Hannah Eynon, Hannah Gallagher, Robert Hamilton, Jen Herron, Luz Leyden, Ronan McGovern, Marie-Louise McGuinness, Carmel McKeown, Niamh McNally, John Moriarty, Chiedza Musengezi, Deborah Onah, Samuel Poots, Mary Ringland, Wendy Sinnamon, Melanie Veenstra, Sylvia Wohlfarth and Honghui Zhu.