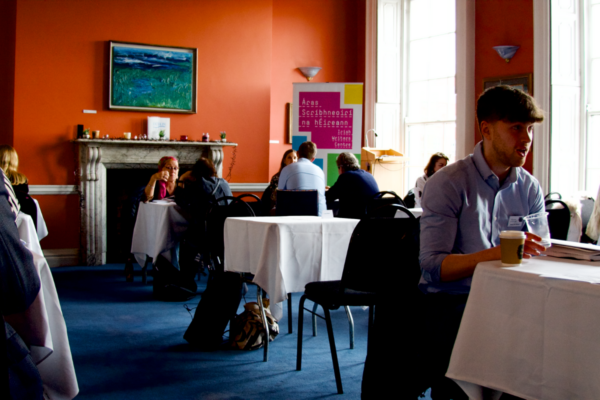 22 February, 2023
Novel Fair 2023 Round Up
Friday 17 February was our first in-person Novel Fair in three years. In the room were our 12 Novel Fair winners, several of whom had travelled from the UK as well as publishers and literary agents from far and wide, including two who tuned in remotely.
Our guests for the day included Blake Friedmann Agency, Bonnier Books, Curtis Brown, Epoque, Fletcher & Company, Greene & Heaton, Hachette Books, Hodder, Lilliput Press, Marianne Gunne O'Conor, Mulcahy Sweeney, Macmillan, Penguin Random House, Storyline Lit Agency, The Bent Agency, The Book Bureau Literary Agency, The Feldstein Agency and The Lisa Richards Agency.
The selected writers Tom O'Connell, Jennifer McMahon, Abby Connolly, Christina Carty, Cassie Smith-Christmas, Colm Maher, Fidelma Mahon, Laura Martz, Jill K Wilson, Sylvia Bluck, Geraldine Creed and Barbara Leahy met with top publishers and agents in a series of one-to-one meetings throughout the day on Friday. Saturday continued with a remote session with publishers Zooming in from the US and elsewhere.
"It was a joyful weekend with manuscripts pitched, connections made, friendships formed and for many of the writers, the start of their successful journey from pen to publisher!
Over the two days, the kindness and support of the writers towards each other was evident and the publishers and agents were outstanding in their attention to and advice to the winners.
Although Novel Fair 2023 was two days of very hard work, the winners said they were some of the best days ever with one writer dubbing it 'a fantastic whirlwind'."– Betty Stenson, Irish Writers Centre Programming Officer
Thanks so much to all those who joined us and took part!