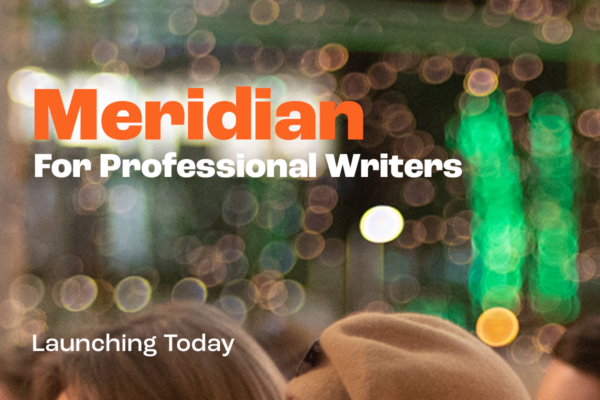 19 April, 2023
"Support for Professional Writers to Advance their Craft and Career with Confidence and Resilience." Launching Today: Meridian
Meridian: For Professional Writers
Welcome to the launch of our new Meridian series of creative and professional development activities for professional writers, and also for those emerging writers who are ready to take the steps towards making a career in writing.
We chose Meridian as our title, not just for its earth and energy associations, but especially for its sense of momentum and growth – to moving towards a culmination or highest point – which is our aim for you in your career as a professional writer.
In our Strategy 2022-26, we dedicate Goal 1 to "support professional writers to advance their craft and career with confidence and resilience." To that aim, we have created the Meridian series, which can cover two main strands of provision: Training and Wellbeing. In the past, you may have seen professional development training supports under the titles Mindshift and Propel – with Meridian we are reorganising and expanding our provision to professional writers in a more rounded way. We will continue to develop supports to sustain craft and career, but we will also to address the skills needed towards building resilience as an artist.
Book today: Inaugural Meridian supports
What You Can Expect
We aim to provide up to 12 training and wellbeing sessions annually, which include partners and facilitators from the publishing industry, other arts partners, mentors and facilitator/curators.
For those writers on our collaborative programmes, Meridian supports will play a key role in supporting their development, with the help of universities, libraries, festivals and other partners.
We are developing a suite of workshops, seminars and courses to create learning opportunities and professional pathways for professional writers that reinforce their capacity to have a sustainable career as a writer. The overarching focus of all Meridian series activities will be on craft, career and wellbeing, throughout a writer's career arc.
We are developing a bank of future Meridian supports, some of which will be available in 2023
Time management skills
Breaking through writing blocks
How to network effectively
Social media skills
Understanding publishers and agents
How to pitch to festivals
Creating and managing a literary project
Confidence building for your writing career
The business of writing – tax, publishing contracts, copyright and royalties
Funding/income raising opportunities for professional writers
Presentation skills for interviews
Researching your book
Shifting genres
Curation skills for writers
Writing effective applications
---
We Welcome Your Input
Good curation only hits the spot if it is addressing an interest or a need.  This is why we would like to hear from you, to help us to create supports that you have identified as a gap for a professional writer at any level of your career arc.
We would welcome your input if you have any thoughts that would help you and your peers in the professional sphere, and we will do our best to respond to you. Please write to education@writerscentre.ie putting Meridian suggestion in the subject line.